Featured Item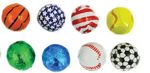 Chocolate Marbles, Earth, And Sports Bal...
Stock foil wrapped Chocolate Marbles and stock Chocolate Sport Balls (Baseball, Basketball, Soccer, Football, Tennis, Golf or Stars & Stripes Balls) without customization and can be order individually...
$0.17 - $0.24
Welcome to A La Carte Line
Welcome to promotional tools that give you control over color, shape, taste and feel.
You even have the muscle of national branding for a "red hot" new product or service. We produce full custom products too, so if you don't see what you need, please
contact us
.