Featured Item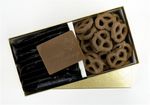 10 Chocolate Cookies & Chocolate Covered...
Includes 10 chocolate molded cookies with chocolate covered pretzels packaged in a gold gift box with a 1 standard color imprint on the lid. 4" W x 8" L x 2 1/2" H
$23.92 - $25.85
Welcome to A La Carte Line
Welcome to promotional tools that give you control over color, shape, taste and feel.
You even have the muscle of national branding for a "red hot" new product or service. We produce full custom products too, so if you don't see what you need, please
contact us
.